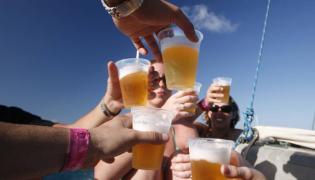 With Summer right around the corner there's no doubt many of you will be looking to hit the waterways. With that in mind, it may be a good time to remind everyone of the drinking and boating laws in Tennessee. Boating under the Influence is covered under Tenn. Code Ann. § 69-9-217 and states:
It is unlawful for any person to operate a vessel subject to registration on public waters of the state while under the influence of any intoxicant, marijuana, narcotic drug or drug producing stimulating effects on the central nervous system or while have blood alcohol content of .08% or more..
Boating under the influence is not limited to just boats that have a motor, but includes any type of watercraft that is required to be registered under Tennessee law. Boating under the Influence as a first time offense is considered a Class A Misdemeanor and can carry the following penalties:
– Fines from $250.00 to $2,500.00;
– 11 months 29 days in confinement;
– Suspension of boating license up to 1 year;
– Trash and litter removal; and
– Probation with such conditions as completion of an alcohol safety boating program or alcohol rehab
During the 2013 Fourth of July weekend alone, Tennessee Wildlife Resource Agency checked more than 3,300 vessels, made 10 arrests for BUI and issued more than 160 citations. There is one very important exception to this law and that is that it does not apply when the boat is anchored.
So, anchor down or have a sober boater ready to drive you around.